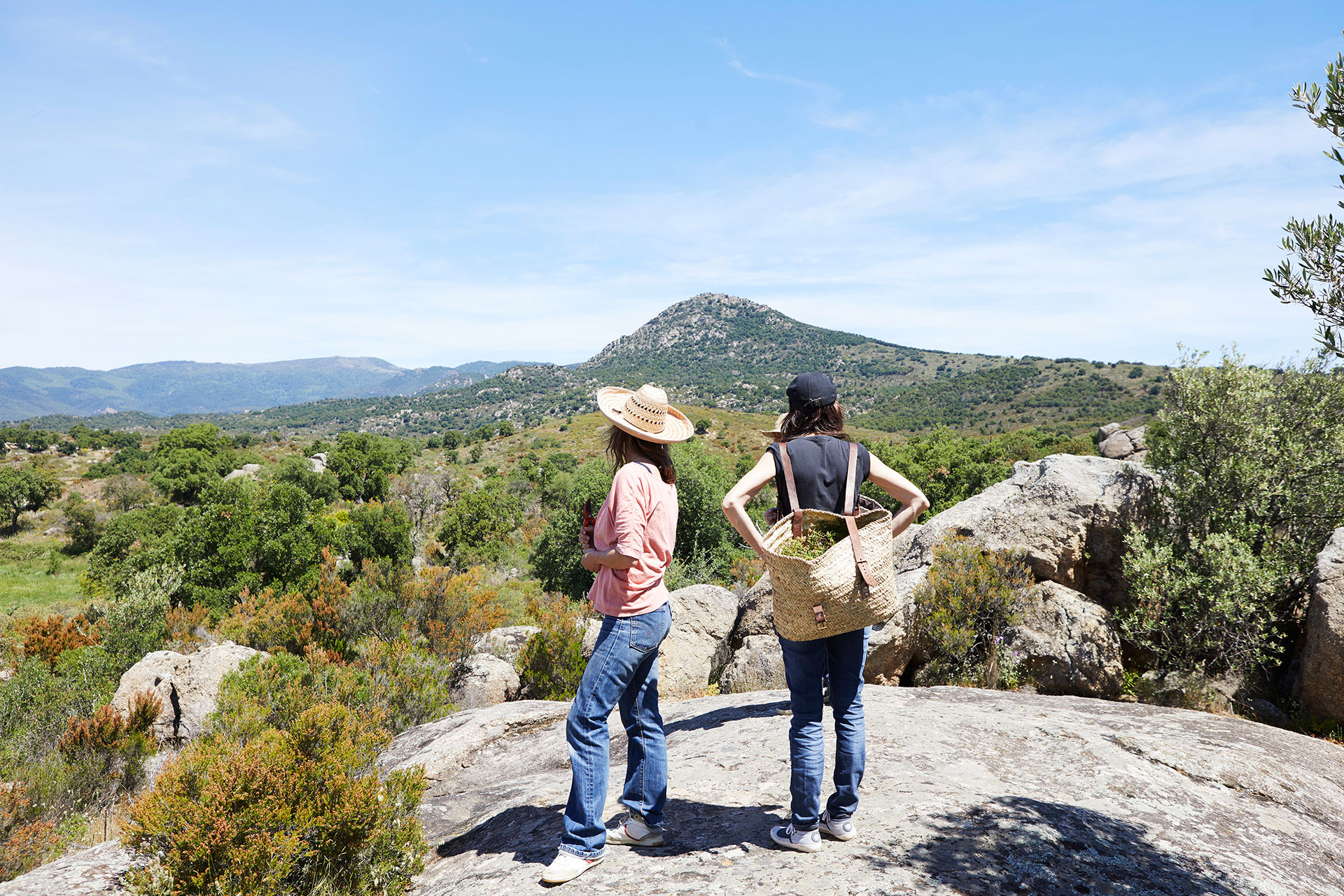 TOTAL INMERSION / off road experience
Routes:
Route 1: The Albera Massif (from Cantallops, through Requesens, until Els Vilars d'Espolla).
Route 2: The Salines Mountains (from Maçanet de Cabrenys to Agullana, through the Salines reserve and past the Castle of Cabrera).
Route 3: Cap de Creus (from Selva de Mar to Cadaqués, passing through Cala
Tavallera).
Why. To discover the wild side of the Empordà region in a unique way, far from typical tourist routes, crossing through some of the most beautiful and best conserved settings in the area. To live through an exclusive experience amidst curious and daring people, guided in a relaxing way by a person who is in love with the landscape and really knows how to share his enthusiasm in a contagious way.
Who for. For people looking for transformative experiences with their bodies as active agents. For walkers and those who love to travel slowly, who want to learn about the plants they will find along the way, along with the landscape and its people, applying a unique way of seeing (and smelling) life itself. For those looking for something truly special, exclusive and unrepeatable that can only be done on slow heat. For those who are convinced that time is a luxury and who dare to take all they need.
Includes. Includes a plant gathering route lasting four hours, with a stop for lunch, along lovely mountain paths inside the nature reserves of La Albera, Les Salines or the Cap de Creus peninsula.
Camping in spaciously luxurious Swedish tents in full nature. Classification, drying, distillation, tinctures and infusions with the plants collected in our mobile distillation device while supper is being prepared in the camp. At night, beside the fire, we will share stories or just enjoy the audio symphony of the natural setting in silence.
The next morning, after a good breakfast, we will continue gathering plants (3-4 hours), going down to the matollars (low-lying brush) or near the coast. At midday we arrive to the second camp, where we will do natural wine tasting, or try sparkling wines or honey (in function of the route chosen) with the very producers as our guides.
As lunch is being prepared, seasoned with the plants we have found along the way, you can try in situ a BOIRA and your own personalised off-road fragrance, distilling into a single flask the experiences you have enjoyed during the expedition. By way of a sending off, we will enjoy an exquisite meal in the camp featuring premium local products. You will return home as part of the very landscape you have enjoyed, with a gift pack of local products in hand.
Where. In function of the chosen route.
Duration. 32 h (approximately)
Route. In function of the chosen route.
Meeting Point. In function of the chosen route.
When we start. At 10 am, distribution of material and brief explanation. At 10.30 am we get on our way (subject to variations in function of the season).
What you need. Curiosity and a good attitude, along with a sun hat, sunscreen and comfortable footwear. The rest is on us: a basket and pruning shears, gloves, food and other delights, tents, a dry ecological outhouse and a first-aid kit. Besides this, we will take your backpack or suitcase with all your belongings to the camp, so you will only have to carry a small bag with a few essentials: water, a camera, according to your priorities. If you want to bring your favourite sleeping bag, no problem at all, but we will have clean bags for everyone.
Oh, and an important recommendation: don't come wearing perfume or cologne. This may seem obvious, but it is worth reminding you. Keep in mind that some shampoos, conditioners and deodorants that have been synthetically scented are so 'effective' that the cloud of falsely-derived pleasant scent surrounding you will not let you and the others truly enjoy the experience.
Group size. From 10 to 14 people.