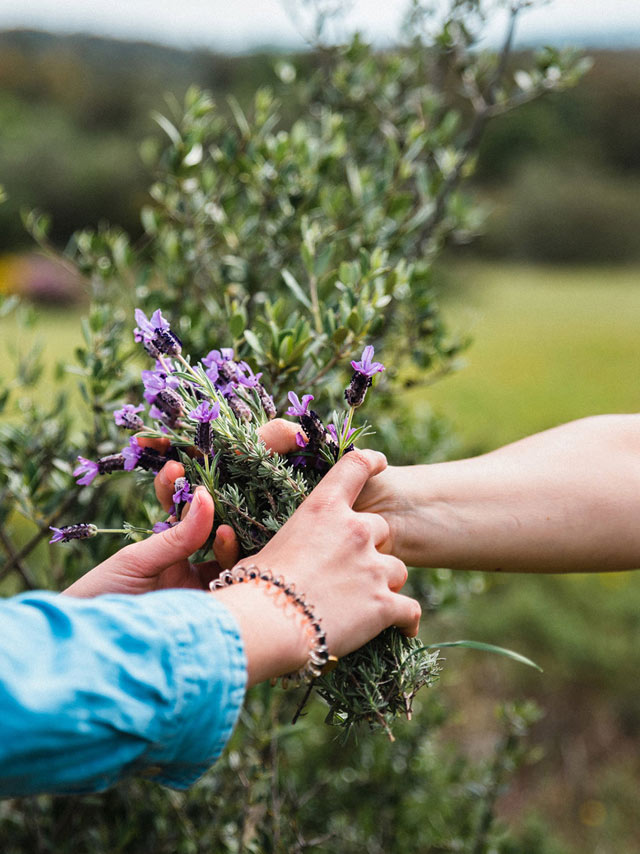 LANDSCAPE DIVE – Capturing the essence of Molí Roquer – 23/07/2022
Off Road Experience
23/07/2022
110,00€
A day could be enough to change your way of moving through your landscape (and your life, too). After spending a whole day with us, you will never go for a walk in the same way.
In stock
-HARVESTING WALK
-PLANT DISTILLATION
-NATURAL WINE TASTING
-A "MAR Y MUNTANYA" EXQUISITE MEAL SURROUNDED BY VINEYARDS
-RELAXED OLFACTORY CAPTURES WORKSHOP
Where:
El Molí Roquer (Rabós / La Albera – Alt Empordà)

Duration:
7h
Meeting point:
We meet directly at the route's starting point, in the entrance of Molí Roquer.
When we start:
At 6h pm, distribution of material and brief explanation. At 6.30 pm, we get on our way.
What you need:
Curiosity and a good attitude, along with a sun hat, sunscreen and comfortable footwear. The rest is on us: a basket and pruning shears, gloves, fresh water, homemade lemonade, good wine, exquisite food, coffe and other delights. Oh, and an important recommendation: don't
come wearing perfume or cologne. This may seem obvious, but it is worth reminding you. Keep in mind that some shampoos, conditioners and deodorants that have been synthetically scented are so 'effective' that the cloud of falsely-derived pleasant scent surrounding you will not let you and the others truly enjoy the experience.