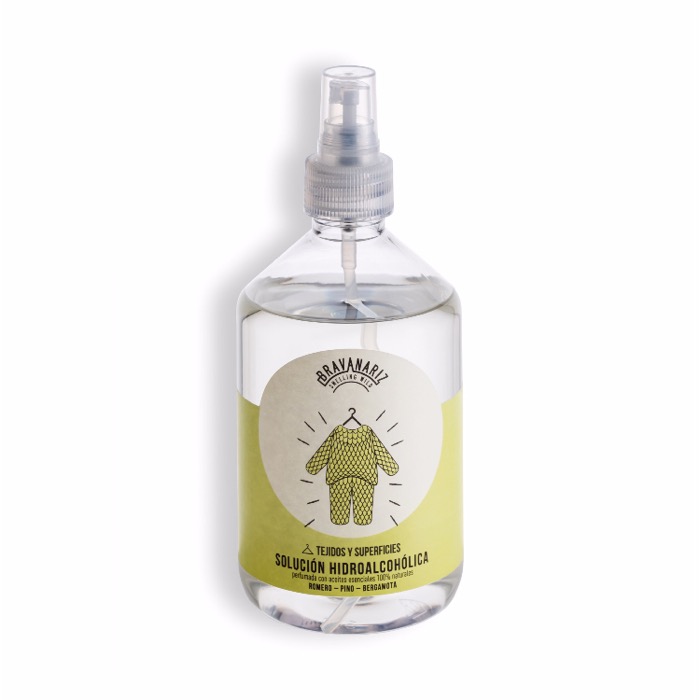 HYDROALCOHOLIC SOLUTION 500ml /Fabrics and surfaces
500ml
Hydroalcoholic solution (70% alcohol) for the hygienic disinfection of tissues and surfaces.
Does not contain gelling agents or thickeners derived from petroleum.
Manufactured with ozonated water to minimize the risk of contamination of the mixture.
18,00€
In stock
Este producto antiséptico y desinfectante lo hemos perfumado con SILVESTRE, nuestra colonia más popular y familiar. Con él, podrás desinfectar tu ropa, tus objetos y muebles, protegiendo tu entorno y disfrutando de los beneficios aroma-terapéuticos de sus aceites esenciales 100% naturales de primera calidad. El pino es antiséptico y antimicrobiano, el romero un reconocido neuroconector que activa tu mente y la bergamota un antidepresivo natural para levantar el ánimo.
How to use: Spray on the fabric or surface until the product evaporates completely. Avoid contact with eyes, irritated skin, damaged skin or with mucous membranes. In case of accidental contact, rinse immediately with plenty of water. Do not eat. Keep the container closed and protected from light and heat. Flammable.
IMPORTANT NOTE: Due to the current situation and difficulties with suppliers, changes may be made to the type of packaging. Also, possible delays in shipments may arise. Thanks for your understanding.